Calgary, Alberta, March 28, 2022 – Helium Evolution Incorporated ("HEVI", "Helium Evolution" or the "Company"), a Canadian-based helium exploration and production company focused on developing assets in southern Saskatchewan, today announced that it will begin publicly trading on the TSX Venture Exchange under the symbol 'HEVI' on Wednesday, March 30, 2022.
This listing will occur in connection with the Company's recently completed transaction (the "Transaction") with Duckhorn Ventures Ltd. ("Duckhorn"). The Transaction resulted in the reverse takeover of Duckhorn by the shareholders of Helium Evolution Incorporated. A final long form prospectus relating to the Transaction, the Company, and other matters, was filed on March 11, 2022 and is available on SEDAR and on the Company's website at https://www.heliumevolution.ca/.  Upon listing, the Company will have 78,738,474 common shares (the "Shares") issued and outstanding on an undiluted basis (87,003,014 on a fully-diluted basis), with 14,963,319 Shares held by principals of the Company being subject to escrow.  Officers and directors of the Company hold 15,950,094 Shares (approximately 20.3% on an undiluted basis).  All Shares issued in connection with the Transaction were issued at a deemed price of $0.30 per Share.
"Our TSXV listing is a huge milestone for Helium Evolution, and provides an opportunity to invest in a Saskatchewan-focused company holding the largest helium exploration land base in North America among those who are publicly-traded," said Greg Robb, President & CEO of Helium Evolution. "Our top-notch team of highly experienced professionals are preparing to commence our initial drilling program in the spring / summer of 2022, with the goal of sustainable green helium production within an estimated 12 months."
KEY INVESTMENT HIGHLIGHTS:
Largest Saskatchewan Land Position Among Public Companies: HEVI holds the largest helium land position in North America among publicly-traded companies at 5.4 million+ permitted acres, with multiple seismically defined targets. Saskatchewan presents a unique regulatory regime, desirable geology, and easy access to infrastructure.
Rising Helium Demand: Helium's scarcity has recently caused it to be classified as a critical mineral to many leading countries, leading to escalating prices. Its usage includes serving as a vital input to high-tech manufacturing – including semiconductors and medical equipment – with zero substitutes and significant supply chain risk2.
Drilling Program Expected to Commence Spring of 2022: Existing well, seismic and aeromagnetic data was used to identify helium leads in the Deadwood formation, HEVI's target geological zone. Helium drilling is similar to conventional natural gas drilling which requires simple lower-cost vertical drilling and completions.
Management Expertise with a Differentiated Strategy: Governed by a strong board, HEVI's well-rounded management team brings proven acumen in engineering, geology, land acquisition and shareholder value creation with a commitment to conservative execution & contingency planning. HEVI offers investors exposure to a strategy and development path akin to Canada's largest independent, privately-held helium producer.
Targeting 'Green' Helium Production: Currently, over 95% of helium is produced as a by-product of natural gas / NGL production. HEVI is targeting wells drilled specifically for helium with environmentally harmless nitrogen as the carrier gas2, which supports greener production. HEVI has also identified a strategy for processing, production and offtake once production comes on stream.
1 Emerging Ideas, Industrial Technology: Helium; Cormark Securities; 2020.
2 Critical Minerals; Government of Canada; March 2021.
3 Emerging Ideas, Industrial TechnologUSGS Mineral Commodity Summaries; January 2016.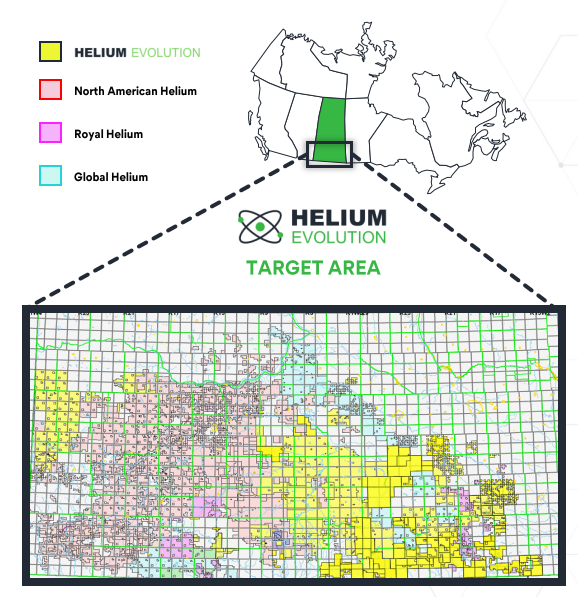 Asset Summary
Helium Rich, Expansive Land Position:  HEVI has amassed over 5.4 million acres of helium land permits representing North America's largest helium land package among publicly-traded companies, situated near proven discoveries of economic helium concentrations. HEVI is targeting regional basement (Precambrian) highs, near where the highest concentrations of helium, at up to 2.0%, are typically found. The Company's initial drilling locations will target the Deadwood formation at McCord. 
ESG-Friendly Development: Saskatchewan helium occurs with nitrogen as the primary carrier gas and features minimal associated CO2, allowing nitrogen to be vented in an environmentally-friendly manner, while providing cost advantages during helium extraction and purification. 
Supportive Supply / Demand Fundamentals: Once helium is utilized in its respective application, the element escapes into the atmosphere where it can only be found in very low concentrations, becoming prohibitively expensive to recapture for future commercial use. With a permanent reduction in the global supply of helium as well as continued growth in demand, helium is expected to remain valuable now and into the future.
Management Team
HEVI's well-rounded management team is comprised of resource development experts with proven acumen in production engineering, geology, land acquisition, and creating value for shareholders by transforming resources. Management is strongly aligned with shareholders through meaningful share ownership.
Greg Robb
President & Chief Executive Officer, Director
Greg Robb has worked as a geologist in Western Canada since 1984 and brings broad experience in all facets of the oil and gas industry, including exploration and development, acquisitions and dispositions, and reserve valuations. He has held executive positions in several exploration and production companies and in 2006 founded Salvo Energy Corp. Mr. Robb has been involved in heavy oil, shallow gas, coal bed methane, deep basin tight gas and conventional oil and gas plays, evaluating over $500 million of acquired assets across his career. Mr. Robb has a B.A. in economics from the University of Alberta, a B.Sc. in geology from the University of Calgary, and a M.Sc. in geology from the University of Alberta.
Patrick Mills
Chief Operating Officer
Pat Mills has over 30 years of executive, managerial, engineering, and operations experience in the oil and gas industry in the Western Canadian Sedimentary Basin. Mr. Mills was instrumental in the start-up of Mustang Resources and Pegasus Oil & Gas where he held senior executive and board of director positions in the corporations. In addition, Mr. Mills has held various petroleum engineering related technical and managerial positions throughout his career with companies such as Texaco, Imperial Oil, and Startech Energy. He attended the University of Alberta and received a Bachelor of Science Degree in Petroleum Engineering and is an accredited member of APEGA.
John Kanderka
VP, Corporate Development
John. Kanderka has over 40 years of experience in the oil and gas and mineral sectors. Mr. Kanderka has significant corporate experience acting as an officer and as a director in both the private and public sectors in various roles while responsible for strategic planning, corporate finance, management, and administration. He has been a company founder and company builder with a wide array of experience in asset purchase and sale transactions, mergers, buyouts, and reorganizations. Currently Mr. Kanderka is actively a Director of Orestone Mining Corp. and is Chairman of the Board for Visionary Gold Corp. which company he co-founded. Mr. Kanderka has been a Member of the Canadian Association of Petroleum Landmen since 1977 and has held the Certification as a Professional Landman since 1991.
Ryan Tomlinson
Chief Financial Officer
Ryan Tomlinson holds a Bachelor of Commerce degree from the University of Calgary, specializing in accounting, and successfully completed the Certified Management Accountant (CMA) program to obtain his Chartered Professional Accountant and CMA designations. Mr. Tomlinson has extensive financial accounting experience with domestic and international private and public oil and gas companies and has held key roles with increasing responsibility serving as Controller and CFO. Mr. Tomlinson has been involved in start-up companies, raising equity in both the private and public markets. He has been responsible for structuring financial systems, including fully integrated electronic invoicing, reporting and record keeping, that enable companies to make timely operating and capital spending decisions, improve the accuracy of financial reporting, and minimize administrative processing times.